Welcome to Gaur Brahaman Degree College
Principal Message :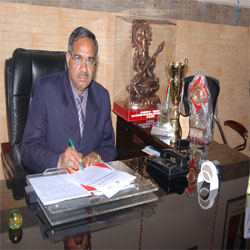 We are living in the age of globalization where whole world has become a market. A huge number of companies are mushrooming different sectors of world economy. To meet out the requirement of corporate world there is big need of professionals who could meet out its needs keeping place with the world economy, India is also leading towards industrialization. India has its name in the world market specifically in IT sector Bangalore Chennnai, Noida & Gurgaon cities has emerged as main working place in software Engg. India is playing a dominant in software export from these places. Job opportunities in industrial and IT sectors are increasing day by day. For preparing engineers, Technocrats, managers required in industrial field, government. Of India and its constituent state governments by providing on objection certificate and other basis amenities to educational institutions are making all out efforts to inculcate managerial skill in our youth. For the purpose Gaur Brahman Degree College a prestigious institution situated at Rohtak affiliated to Maharshi Dayanand University is also working in this field. The institution facilitates teaching and learning not only in the field of traditional subjects but also ITN managerial sectors. B.C.A., B.B.A., B.Com. Computer application are the course where the students passing out 10+2 classes can join to have skill of managing the affair concerning to Industrial and IT sectors. I take and opportunity to welcome those student who wish to join these courses in our prestigious Institution. I assure all these student that they will be equipped with all those skill which is the requirement for the development of mental faculties of students I expect that the student joining these courses in our college will abide wither rules and regulation of the college for attaining their goals and objectives strict discipline, commitment to learning of higher Standards respect to teachers, mutual understanding, Love & affection to class mate, Keen, Interest in academic pursuits and all round personality development are the ways through which they can attend their objectives.
Dr. J.N. Sharma
Gaur Brahman Degree College
Salient Feature
Fully Air Conditioned Block
Wi-Fi Campus
Seminar Hall
Earthquake resistant building
Swimming Pool
Gymkhana Club
Basketball & Tennis Court
Well furnished Cafeteria
Highly qualified, dedicated & experienced faculty for all department
Latest teaching and visual aids like interactive digital board, multimedia projector etc.